What's better than a warm cookie fresh from the oven? Not much, right? And this plant-based tahini date skillet cookie totally hits the spot. It's warm, delicious and so easy to make. And for a Healthyish twist, this recipe is completely dairy free!
I love this tahini date skillet cookie so much because its something the entire family can enjoy! Whether you serve it warm from the oven or have the patience to let it cool, you're in for the perfect Healthyish dessert.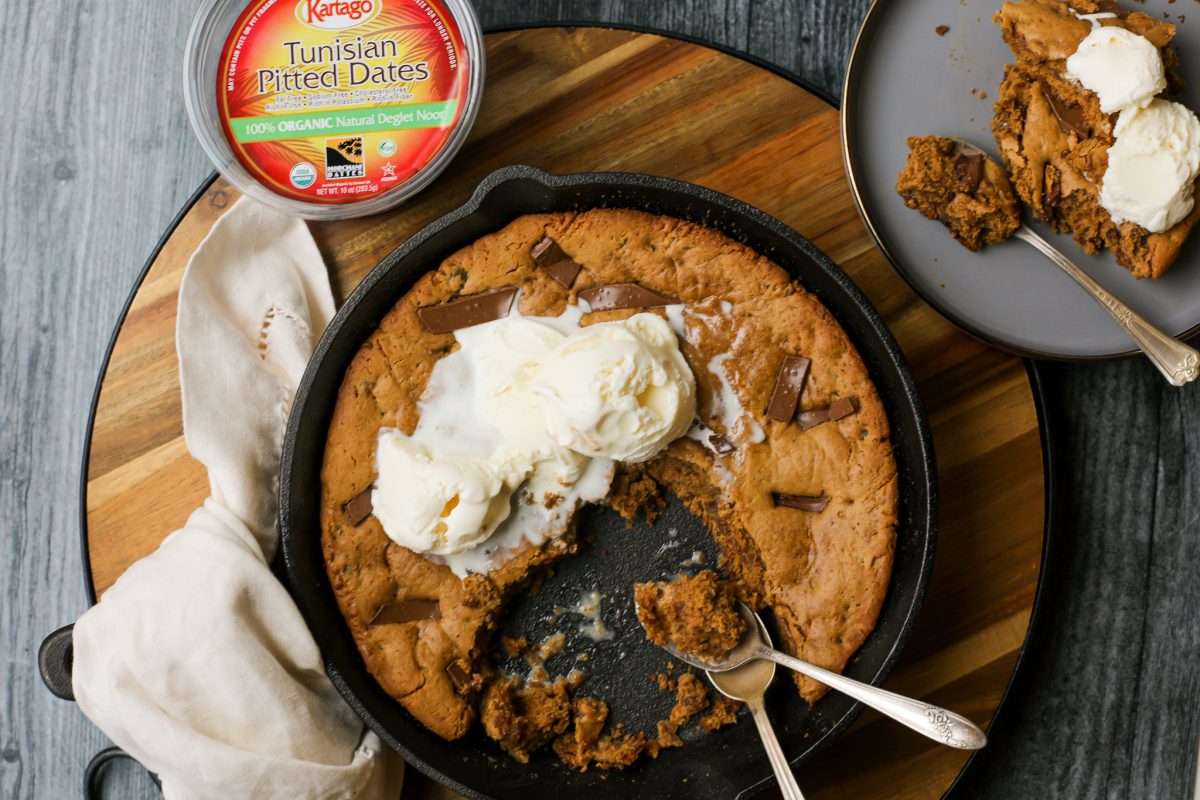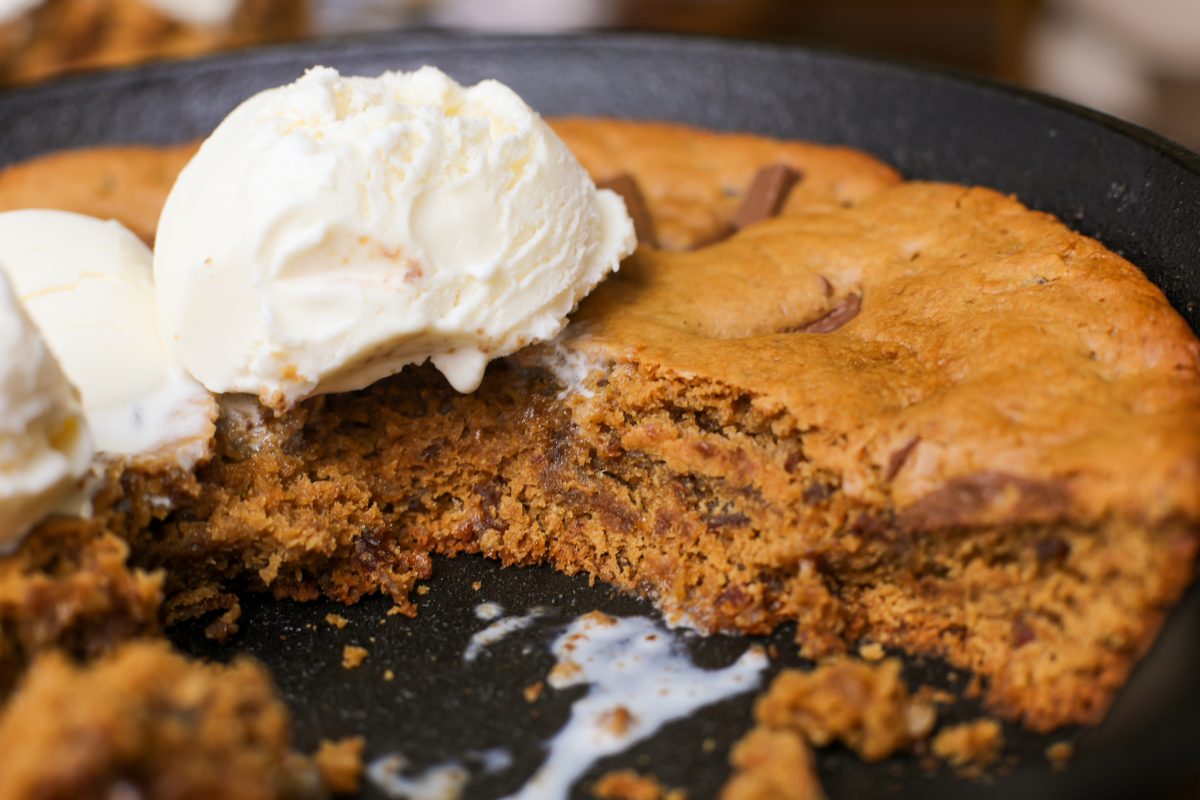 The center is moist and slight chewy from the amazing Kartago dates. For this recipe is used Kartago Foods, organic Deglet Noor dates. This date variety is known for being more delicate and flavorful than other dates.
Plus, these Deglet Noor dates were already pitted which made them very easy to work with. Sourced from Tunisia, the Kartago family has been harvesting dates for decades. SO, it's safe to say they know a thing or two about high quality dates. Plus, these dates are fully certified organic which is always a win in my book!
I also used tahini in this recipe. If you're not familiar with it, tahini is made from ground, hulled sesame seeds. Traditionally, used in the Middle East, tahini tastes very similar to peanut butter. The tahini and the dates really make this entire recipe come to life.
If you're looking for more vegan desserts, try my no bake vegan cheesecake or my plant-based peanut butter cookies.
Equipment
– cast iron skillet
– 2 mixing bowls
– food processor
– Ingredients
– 3/4 cup chopped Kartago pitted dates (about 12 Deglet Noor dates) – 1 cup AP flour
– 1 teaspoon baking soda
– 1/4 teaspoon salt
– 3/4 cup tahini
– 1/2 cup almond milk
– 3/4 cup coconut sugar
– 1 tablespoon maple syrup
– 1 teaspoon vanilla extract
Instructions
1. Preheat the oven to 350 degrees.
2. Gently spray a cast-iron skillet with baking spray. Set aside.
3. In a large mixing bowl, combine the AP flour, baking soda, and salt. Whisk until well combined. Set aside.
4. In another mixing bowl combine the coconut sugar, vanilla extract, maple syrup, tahini and almond milk. Whisk until smooth and creamy.
5. Grab a food processor and chop your dates into smaller sized pieces. I used about 12 dates or 3/4 cup.
6. Add the pieces into the tahini mixture. Stir until well combined.
7. Pour the wet tahini mixture into the dry ingredients. Blend until your cookie batter forms.
8. Add the batter into the prepared skillet. And press it down using a spatula. You want the batter to be evenly pressed into the skillet.
9. Option to add some dark chocolate pieces to the top before baking. 10. Bake for 22-23 minutes or until cooked all the way through.
11. Serve warm with dairy free ice cream or let it cool and slice it into pieces.
AUTHOR: SARAH THOMAS-DRAWBAUGH
Sarah Thomas-Drawbaugh is a recipe developer and creator of the brand, Healthyish Foods®. Sarah makes plant-based, fish and chicken recipes that are simple and delicious. Her work can be seen in Healthy-ish by Bon Appetit and Bon Appetit Magazine (digital), Women's Health Magazine (digital) and Mind Body Green. Sarah is a Pittsburgh, PA native but currently lives in Vail, Colorado with her husband, Dan and rescue dog, Graci!
Ingredients: 100% Organic Deglet Noor Pitted Dates
Origin: The Djerid Oasis – Tunisia
Dates are not only a delicious, healthy snack, but also can be used in cooking and baking for bread, fruit and nut energy bar, oatmeal toppings, smoothie, and high sugar alternative such as syrups and caramels.
Deglet Noor dates are rich in iron, potassium, magnesium, zinc, phosphorous, calcium and vitamin B3. They are also very rich in fiber and helps with digestive health
Fixed shipping cost per unit: $8.00
Can also be found in 10oz size.
Read more